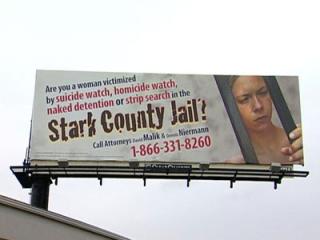 The Hope Steffey affair seems unwilling to go away. I haven't blogged about it lately, but search engine traffic keeps finding my earlier stories, and the pace has been picking up. This story seems to be striking a raw nerve on several levels.
A quick recap.
Hope Steffey's night started with a call to police for help. It ended with her face down, naked, and sobbing on a jail cell floor. Now, the sheriff's deputies from Stark County, Ohio who allegedly used excessive force during a strip search 15 months ago face a federal lawsuit, and recently released video won't help their case.

Steffey's ordeal with the Stark County sheriff's deputies began after her cousin called 9-1-1 claiming Steffey had been assaulted by another one of their cousins. When a Stark County police officer arrived, he asked to see Steffey's driver's license. But instead of handing over her own ID, she mistakenly turned over her dead sister's license, which she contends she keeps in her wallet as a memento. That's when the situation became complicated.


"Hope was not treated as a victim," her lawyer told WKYC News. "The officer said to her 'shut up about your dead sister.'"
And then it got
bizarre.
It turned out that there were quite a few other women who'd gotten this sort of "special treatment" courtesy of Turgid Tim Swanson.
WKYC reports

that since the release of the now-notorious

Hope Steffey 'strip search' video,

4 more Stark County, Ohio women, including Valentina Dyshko of North Canton, have come forward alleging that they were forced to remove their clothing when detained at the Stark County Jail...

BL further reports in a subsequent article that the

State Attorney General will be looking into the entire matter.





Larry Shields of the Salem News reports that Stark County Sheriff Tim Swanson has officially requested that Ohio Attorney General Mark Dan "review all the circumstances surrounding the arrest and incarceration of Hope Steffey in October of 2006," a vicious incident labelled "way out of line" by Cuyahoga county Sheriff Gerald McFaul (h/tThePoliticalCat).

Additionally, Muriel Kane of The Raw Story reports that video footage taken prior to the now-infamous strip search tape may exist, noting that "jailhouse surveillance cameras show a deputy with a handheld camera filming Steffey being escorted to her cell."

Kane also suggests that dashboard video of the arrest, originally believed to be non-existent because the arresting officer claimed the camera was off, may not have been disclosed to Steffey's lawyers.
Of course, the investigation came to the sort of end you might expect, in a state and countey where things like this could happen in the first place.
According to a grand jury, Stark County deputies committed no criminal acts while arresting Hope Steffey two years ago. Nancy H. Rogers, Ohio attorney general, issued a statement saying that a Stark County grand jury did not hand down any indictments after reviewing the evidence presented by the state's Bureau of Criminal Identification and Investigation Special Prosecution Sections.

The Steffey case was investigtated by Paul Scarsella, the Chief of the Special Prosecutions Section for the Attorney General's Office where he manages 4 attorneys and support staff. He was assisted by Bridget Carty, Public Integrity Unit Coordinator, and an Assistant Attorney General in the Special Prosecutions Section.

The Special prosecutors, Paul Scarsella and Bridget Carty, said the incident, in which male and female deputies forcibly removed Steffey's clothes at the Stark County jail, was a suicide precaution. They said the deputies were only following a medical order given by a doctor on duty to remove her clothes. Though the jail has suicide suits for inmates to wear, prosecutor Scarscella said Steffey was not immediately given one because even the suit was deemed too dangerous for her to have.

The Special prosecutors presented the results of their investigation to the grand jury without interviewing Hope Steffey. They said they were unwilling to interview her with her lawyers present, as she requested. Steffey did however appear before the grand jury. The grand jury declined to indict the deputies involved.

Steffey denied that she was suicidal or was given the opportunity to remove her clothes herself. There is no policy that prevents men from removing a female inmate's clothes during a suicide precaution situation. Men are however prevented from strip-searching a female inmate.

However, the findings of this grand jury will have no bearing on the federal lawsuit that Hope Steffey filed on Oct. 2007, accusing Stark County deputies ofviolating her civil rights by assaulting, strip-searching and leaving her injured and naked for six hours in a Stark County jail cell. She had to use toilet paper to cover herself. Defendants in the case are Swanson, Deputy Sheriff Richard T. Gurlea Jr. and one to 15 other "John and Jane Does" employed at the Stark County Jail, and the Stark County commissioners. That case is scheduled to go to trial in December.
You might be suprised to find that freepers are as pissed off at Starke County Sherriff

"Turgid Tim

"

Swanson as people on the left. But then, there are outlaw bikers who find Starke County to be insufficiently civilized in this regard. Nor have other law enforcement officers been particularly effusive in their support.
The plaintiffs are six Stark County sheriff's deputies " Kristin Fenstemaker, Laura Rodgers, Tony Gayles, Richard T. Gurlea Jr., Andrea Mays and Brian Michaels " whom the lawsuit states suffered humiliation, severe emotional distress, disrepute in the community, and loss of wages and employment.

The suit stems from investigations and news stories by WKYC TV Inc. and its reporter which "portrayed the deputies as abusing their power, abusing an inmate and wrongfully causing harm to an inmate" " Hope Steffey of Salem.

Specifically named are news reporter Tom Meyer of WKYC TV; Gannett Company Inc., doing business as WKYC TV Inc. at 1333 Lakeside Ave. in Cleveland; and Gannett Satellite Information Network International, c/o CT Corporation at 1300 E. Ninth St., Cleveland. Also named as defendants are three people working for a Channel 3 news program, "The Investigator," whose "true names and addresses are currently unknown."
WKYC keeps up the pressure

Sheriff Swanson says Steffey was considered suicidal so her clothes had to be removed for her own safety. Steffey has denied she was suicidal.

The woman's lawyers discovered during the lawsuit that at least 128 women between 1999 and 2007 were strip-searched or forced to remove their clothing or placed on suicide watch, homicide watch or "naked detention."

The lawyers were unable to obtain the names of these women due to privacy rights. They are using a billboard along a busy four lane road to encourage these women to come forward and to tell their stories.

"This is an honest attempt to find out what, if anything is happening inside that jail that violates constitutional rights," said David Malik, an attorney representing Steffey.
I keep finding other bloggers keeping up the story, and many concerned citizens following it - but very little other media, other than WKYC.

One wonders why. Considering just how juicy this story is. How very much it appeals to tabloid sensiblities. One wonders why it's not wall to wall on CNN and Fox. But it's one more illustration as to why cops fear cameras.

Sheriff Tim Swanson likes to make sure none of them pretty girls are suicidal.
Starke County deserves a Hellride for Hope.
Hope Steffey: "Rape without Penetration."