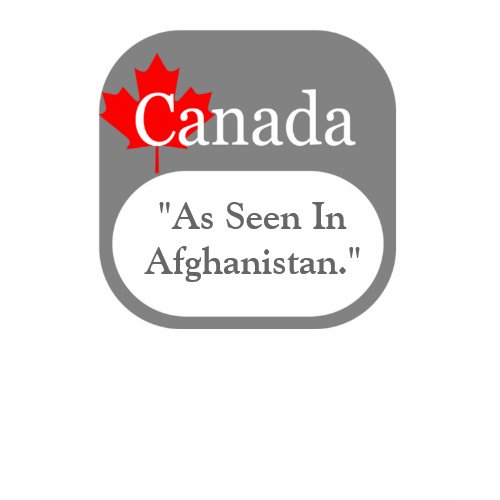 Say it, Canada! T-Shirt
by
EhCanada
Get
t-shirts
from Zazzle
The country the world forgot - again - Telegraph
[I]ts purely voluntary contribution to the cause of freedom in two world wars was perhaps the greatest of any democracy. Almost 10 per cent of Canada's entire population of seven million people served in the armed forces during the First World War, and nearly 60,000 died. The great Allied victories of 1918 were spearheaded by Canadian troops, perhaps the most capable soldiers in the entire British order of battle.


Canada was repaid for its enormous sacrifice by downright neglect, its unique contribution to victory being absorbed into the popular memory as somehow or other the work of the "British". The Second World War provided a re-run. The Canadian navy began the war with a half dozen vessels, and ended up policing nearly half of the Atlantic against U-boat attack. More than 120 Canadian warships participated in the Normandy landings, during which 15,000 Canadian soldiers went ashore on D-Day alone. Canada finished the war with the third largest navy and the fourth largest air force in the world.

The world thanked Canada with the same sublime indifference as it had the previous time. Canadian participation in the war was acknowledged in film only if it was necessary to give an American actor a part in a campaign which the US had clearly not participated - a touching scrupulousness which, of course, Hollywood has since abandoned, as it has any notion of a separate Canadian identity.

So it is a general rule that actors and film-makers arriving in Hollywood keep their nationality - unless, that is, they are Canadian. Thus Mary Pickford, Walter Huston, Donald Sutherland, Michael J Fox, William Shatner, Norman Jewison, David Cronenberg and Dan Aykroyd have in the popular perception become American, and Christopher Plummer British. It is as if in the very act of becoming famous, a Canadian ceases to be Canadian, unless she is Margaret Atwood, who is as unshakeably Canadian as a moose, or Celine Dion, for whom Canada has proved quite unable to find any takers.


Think nothing of it. We're Canadians. That's what we
do
. Now, please; we maintain the secret identity for a
reason.
...most of us don't look that good in tights.