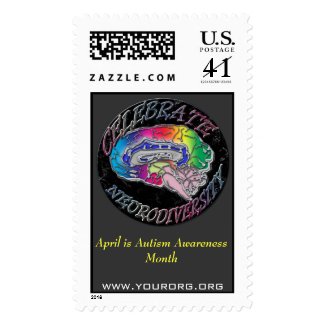 April is Autism Awareness Month Stamp
by
webcarve
Click the stamp to put your company or organization url on it and order a sheet or two. This one is my own design, and one of the very few templated stamps. Zazzle is pretty good about quickly checking designs for postage, but I expect an approved template will be approved even faster.

I HATE puzzle piece designs - and so it has to be an amazing design for me to link to it.

Pickyourpostage has a ton of other autism designs, and one of the few postage designers on Zazzle that I'm tempted to collect. (And remind me to find out whether it's worthwhile, numismatically speaking.)

And finally, maybe not the best graphic design, but it made me laugh out loud.

While I was doing all of this, I had a thought that there are situations where you'd want your autistic kid to carry identification that gives authorities a clue. I've created two - one to be carried as a form of ID, not to be given out, and one that is intended to be used in a school setting. Both are templated to include a current photo. The design has been kept deliberately institutional, with highly visible colors. Yellow for the ID, green for the student "advisory" card.
There is a helpful paragraph at the bottom advising whoever the card may be given or shown to that they may have responsibilities under the ADA and a reference to the ADA Department of Justice Website.
Autistic Student Card
by
webcarve

If you don't like my design, you can always use
zazzle
to create your own - and there are many other options that might help safeguard your children with a little imagination. Don't be afraid to ask me if you need an idea or two or even design help.